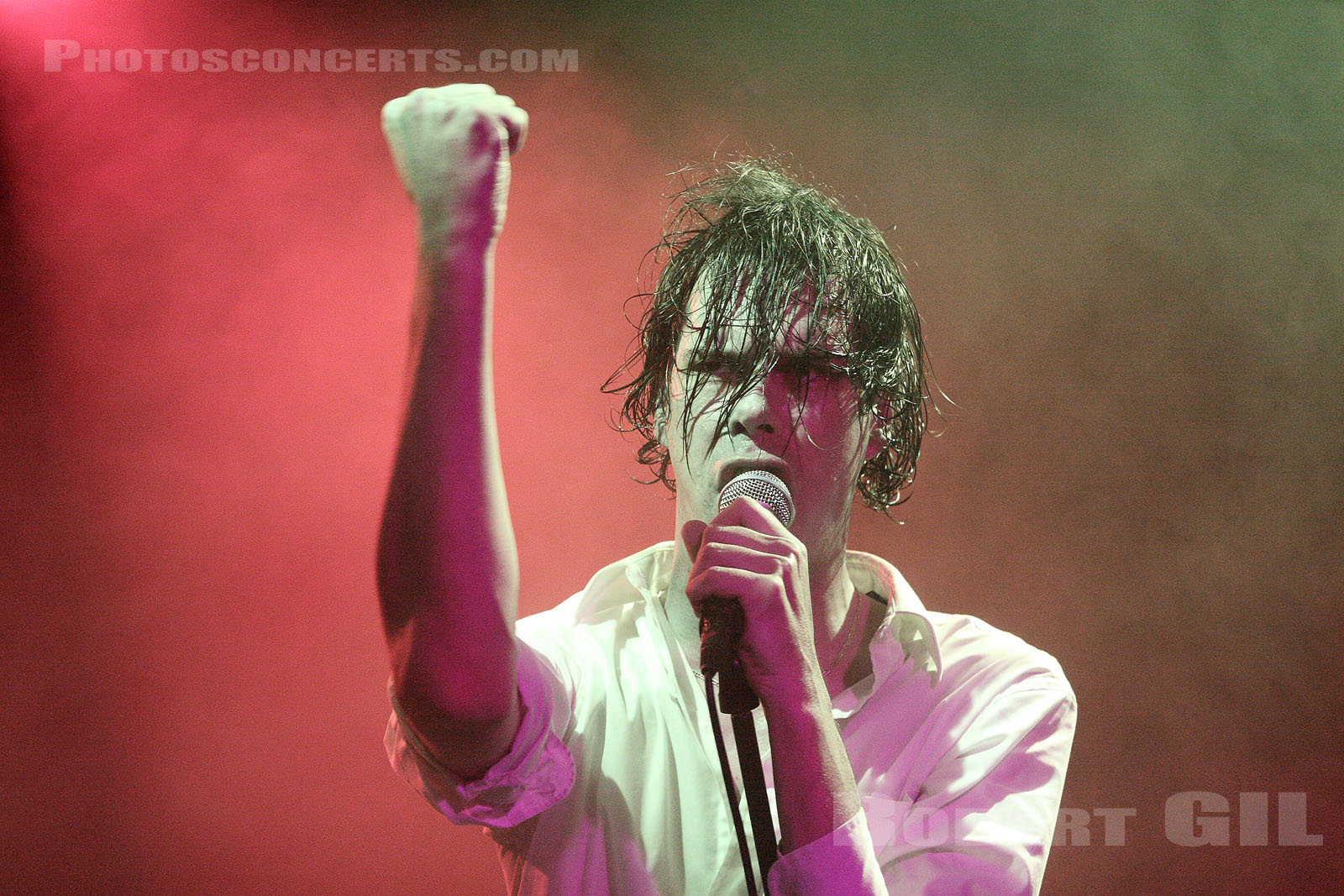 Photo
Robert Gil
Silence on filme !
Liars, liars, liars... cela faisait plus d'une année que j'espérais voir un jour ce groupe sur scène. Découverts et adorés avec l'album Drum's not dead, album écouté, réécouté en boucle toute l'année, jusqu'à l'arrivée de l'excellent album éponyme Liars. Il était hors de question de rater ce groupe lors de sa tournée française. La date strasbourgeoise ayant été repoussée maintes fois jusqu'à être carrément annulée et bien je verrais Liars quand même quitte à faire un aller retour Strasbourg-Paris de folie en pleine semaine d'école. J'arrive dans uneMaroquinerie pleine à craquer au beau milieu de la première partie du trioHTRK. Le groupe d'ouverture ne se veut pas très festif, l'ambiance de la soirée est donnée ! HTRK propose une musique sombre, lourde dans une atmosphère dense, avec une chanteuse torturée dont la voix rappelle étrangementSiouxsie. Une première partie plutôt sympathique contrairement à l'avis de quelques apprentis comiques ne cessant de railler gratuitement ce groupe lors de la pause ! Mais de toute façon, moi, nous, le public de la Maroquinerie nous sommes venus là pour voir et entendre le phénomène Liars... Enfin les voilà, et comme on filme juste à côté, chut, silence ...
Et là c'est le choc !
Alors comment vous expliquer, ce sentiment de stupéfaction qui m'a saisie lors de l'arrivée du groupe sur scène et durant l'interprétation des premiers morceaux. Disons que depuis que j'ai découvert le groupe de Angus Andrews, je n'ai fait qu'écouter leurs albums sans même jeter un œil sur des photos de concert et surtout sans jamais avoir vue une vidéo live du groupe. Alors comme cela arrive pour tout ce que l'on ne connaît qu'en partie, on imagine ce que l'on ne connaît pas. Donc pendant plus de un an au fil des écoutes de Liars , dans un délire pour le moins inexplicable, je me suis imaginée l'inimaginable : Liars = une bande dépressifs notoires. L 'atmosphère quasi oppressante des morceaux, la noirceur, l'intensité des percussions, ces sons presque tribaux, le chant grave ... tout cela a fait que je pensais le groupe austère sur scène, présentant ses morceaux de manière dépouillée. Je les imaginais bien chacun dans leur coin, habillés de noir ou du moins en tenues très sombres, camouflés derrière des nuages de fumées interprétant sobrement et solennellement les morceaux deDrum's not dead. ALORS, alors, alors lorsque j'ai vu arriver sur scène cette grande gigue de Angus Andrews habillé en costume trois pièces dans un blanc flashant , tortillant des fesses dans tous les sens et grimaçant à la manière d'unJim carrey, quand j'ai vu se mettre derrière la batterie un Julian Grossportant une doudoune rose fluo recouvrant un gilet en crochet porté sur des collants en lycra jaune fluo ... je me suis alors demandée « mais qui sont ces types ? » Car pourtant c'étaient bien les morceaux de Liars que j'entendais. Et bien voilà : point d'austérité ! Il faudra que je m'y fasse : quand on assiste à un concert de Liars on n'entre pas dans une communion obscure en écoutant sagement les morceaux du groupe. Non ! On assiste carrément à un show quasi-comique. Et encore le groupe, d'après ce qu'on m'en dira le concert achevé, était bien sage par rapport à d'autres prestations données précédemment. Les morceaux joués sont ceux des deux derniers albums. Le public est plutôt sage, très sage, peut-être est-ce là le propre du public parisien ou d'uneMaroquinerie un peu trop remplie. Il faudra attendre "Plaster Casts of Everything" en fin de concert pour que ça bouge pas mal dans la salle. Les morceaux sont ponctués d'interventions décalées de Angus, gesticulant théâtralement dans tous les sens. Et malgré toutes ces simagrées, les interprétations des morceaux sont impeccables et gardent toute l'intensité qu'elles ont sur disque. Lors du dernier rappel le concert s'achèvera sur le magnifique, l'émouvant, l'intense "The Other Side of Mt. Heart Attack" dans une version hélas beaucoup trop courte, pour un concert beaucoup trop court lui aussi.