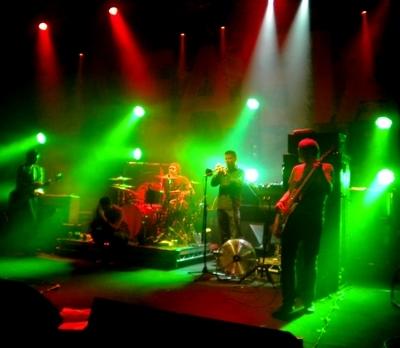 Premier gros concert 2010 pour une
Laiterie
qui affichait complet depuis déjà quelques semaines. Les garçons de Leicester, les
Kasabian
, nous faisaient l'honneur d'une date strasbourgeoise dans leur nouveau périple de concerts européens. Pas de première partie.
Kasabian
seul officiera pour une heure trente d'un concert assez remarquable.
C'est qu'on en attendait beaucoup de ce retour de Kasabian en France. Rarement décevants sur scène, ils avaient su enflammer le public de l'Olympia quelques jours auparavant. D'ailleurs le set était parfaitement rôdé et maîtrisé. Normal puisque nous avons eu droit aux mêmes morceaux qu'à Paris, Amsterdam et encore Rotterdam.
Cependant rien n'était gagné : entre une forte attente, le refus de la déception et l'arrivée sur scène d'un Tom Meighan merdeux comme pas deux. Le groupe investit La Laiterie provoquant l'allégresse d'un public strasbourgeois transi de froid. Nous font face Meighan et l'un de ses guitaristes affublés de lunettes de soleil. Voilà de quoi rappeler amèrement l'entrée ridicule d'un Ghinzu qui nous avait laissé un piètre souvenir de leur passage à La Laiterie. Ce ne sera qu'au beau milieu de la soirée que Tom Meighan nous comblera de joie en nous faisant partager son regard taquin alors qu'à l'heure où j'écris ces mots son guitariste porte toujours ses Ray-ban sur son nez. Mais à la rigueur, ce n'était pas cela le plus énervant, le détail qui aurait pu complètement gâcher la prestation du groupe... En effet, le truc insupportable ne se situait pas au niveau du regard mais de la bouche ! La mâchoire de Meighan s'activant bien trop énergiquement pour être honnête. L'élément perturbateur consistait en un petit "aliment" de quelques cm² : un insupportable chewing-gum. Pendant le concert entier nous avons eu droit à une incessante série de "mâchouillages" peu discrets et peu harmonieux ramenant le leader des Kasabian au niveau d'une vulgaire tête à claques d'école élémentaire. Entre les lunettes noires, la gomme à mâcher, les poses beau-gosse, Tom Meighan agace dès les premières minutes de la soirée. Étonnante capacité des rockeurs anglo-saxons qui semblent exceller à jouer les petits cons. Poseur et connard : la soirée aurait bien pu se révéler désastreuse. Et pourtant...
Et pourtant : nous avons eu droit à l'un des meilleurs concerts proposés ces dernières années à La Laiterie. C'est qu'ils sont sacrément doués les Kasabian et même les passages interprétés de façon plus discrète par le guitariste chanteur Sergio Pizzorno offrent des pauses fort appréciables dans un set qui déménagent. Parce que c'est là que situe l'atout majeur du groupe : celui-ci possède un grand nombre de morceaux exceptionnellement bons et efficaces. Du coup tout s'enchaîne à merveille du démarrage avec "Julie & The Mothman" jusqu'à la combinaison mortelle du rappel : "Fire", "Vlad The Impaler" et " L.S.F. (Lost Souls Forever)".
Tom Meighan se révèlera tout au long de la soirée d'une grande gentillesse et d'une sympathie communicative faisant vite oublier les éléments exaspérants du début de concert. Le public ne s'y trompera pas offrant 5 minutes durant une version chorale à capela des derniers refrains chantés par le groupe. On démontait la scène, la salle se vidait et pourtant le concert n'était pas tout à fait terminé.