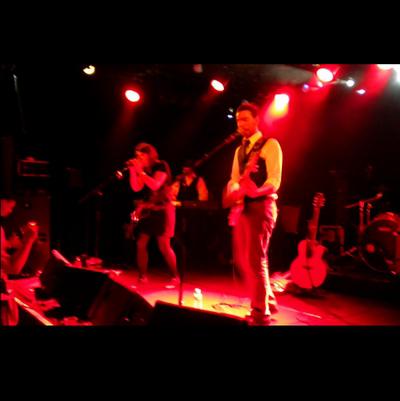 Ambiance chaleureuse ce jeudi soir à
La Laiterie
qui accueillait la formation israélienne d'
Asaf Avidan
et nous proposait de retrouver en première partie les charmants
Tis
. Jeune formation strasbourgeoise autour d'
Audrey Braun
et de
Pierre Vasseur
,
Tis
a sorti tout récemment un premier disque
Lost in the Flax Flowers
aux ambiances folk rock. Album déjà très convaincant dont l'écoute régulière ne cesse de charmer l'auditeur. Quelques rendez-vous ratés et voici enfin pour moi l'occasion de profiter de
Tis
en live et en groupe. Ils seront 5 sur scène : Jonathan, Antoine et Nicolas accompagnent le duo pour leur prestation. Ambiance chaleureuse donc : non seulement en raison de la température élevée de la salle mais aussi par la présence dans le public de nombreux proches du groupe. Comme il n'y a pas de concerts réussis sans véritable alchimie public artiste, les conditions sont déjà posées pour créer une atmosphère sympathique avant même l'arrivée du groupe sur scène. Le peu d'appréhension de mon côté est bien vite dissipé dès les premières mesures. Le groupe assure et enchaine impeccablement pendant près de 45 minutes les morceaux de
Lost in the Flax Flowers
. Ces titres, déjà appréciés sur album, ne déçoivent absolument pas en version live. Ils gagnent même en intensité pour les titres nerveux et en beauté pour les ballades plus douces. Comme on aime cette délicieuse harmonie qui se crée lors des passages où
Pierre
et
Audrey
mêlent leurs voix ! Sans temps mort, malgré les quelques ré-accordages nécessaires dus à la chaleur,
Tis
nous propose un set des plus convaincants. Doté d'une modestie attachante, le groupe porte délicatement le public au gré de morceaux comme "Lost In The Flax Flowers" qu'on chantonne en chœur. La prestation nous paraît presque trop courte tant on apprécie le moment et tant le groupe semble à l'aise sur scène.
Sincérité maladroite Pierre nous remerciera d'un adorable lapsus : "Merci d'être restés"... Mais franchement qui aurait eu envie de quitter la salle ?!