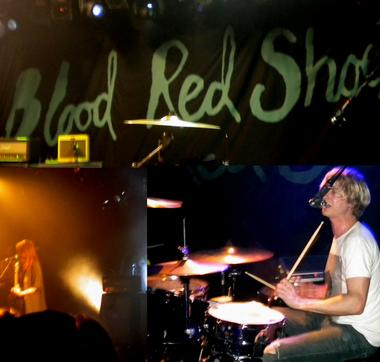 Il y en avait pour tous les goûts hier soir quartier Laiterie. Cela allait du concert rap grand public de
Soprano
dans la grande salle de La Laiterie jusqu'à la release party de belle facture proposée par le label
Herzfeld
à l'occasion de la sortie l'album de
Philippe Poirier
. Entre le très classe et le populaire indigeste, j'ai opté pour la facilité, l'entre-deux, en allant découvrir sur scène le duo anglo saxon
Blood Red Shoes
qui officiait dans La Laiterie Club. Cela me titillait depuis déjà de longs mois de voir ce que pouvait donner sur scène ces deux jeunes gens à l'origine du jouissif
Fire Like This
.
Qu'est-ce qu'une très bonne soirée de concert ? Assister à une prestation phénoménale d'artistes surdoués qui scotchent tout le monde sur place ? Pas seulement. Plus les années passent, plus je constate que je passe d'excellentes soirées parfois par la seule grâce d'un public d'une efficacité et motivation hors normes. Dans ces cas-là le concert ne se joue pas seulement sur scène mais surtout dans une salle qui porte carrément le groupe et crée alors une alchimie remarquable rendant le concert inoubliable. Hier soir les jeunes gens du public de la Laiterie Club étaient vraiment formidables. Déjà lors du set fort convaincant des rockeurs belges de
Wallace Vanborn
l'ambiance était électrique. Ça dansait et bougeait sec dans un Club laiterie déjà bien rempli. Et d'ailleurs, un garçon se remuait beaucoup plus que tout le monde, sautillant, criant, pogotant...
Steven Ansell
lui-même ! Le blond batteur de
Blood Red Shoes
n'est vraisemblablement pas du genre à se la couler douce dans la loge en attendant son set, il fait aussi animateur d'ambiance pour le public lors des premières parties ! Blague à part , si il y a bien une chose qui est agréable ce sont ces artistes qui prennent plaisir à venir partager et profiter avec leur public des prestations de ceux qui les accompagnent en tournée. Ceci est aussi un bon indicateur de l'ambiance hors scène. Quand
Blood Red Shoes
investissent la scène ce sont hurlements hystériques et délires dans toute la salle [Il faut dire que le hasard m'avait placée au beau milieu des groupies allemandes de Steeeeeeeeeeeeeeeeeeeeeeeven !] Quelle épreuve ces concerts pour jeunes ! Il faut concéder à perdre quelques décibels d'audition et surtout s'attendre à être secouée comme un prunier ! Concernant la prestation de l'ultratonique blondinet
Steven
et de sa douce brune Laura-Mary Carter (mimi tout plein en mini-short et maxi tee-shirt Led Zep) il faut bien admettre qu'ils restent un chouïa en dessous de groupes comme
The Subways
alors ne comparons pas à des
The Kills
qui eux évoluent à des années lumières niveau présence scénique et offrent surtout des morceaux nettement plus recherchés. Mais ne boudons pas notre plaisir car les
Blood Red Shoes
possèdent une floppée de titres efficaces. Dans le plus ancien, le tubesque "I Wish I Was Someone Better", le jouissif "Its Getting Boring By The Sea" et dans les plus récents les sympathiques "Don't Ask" et "Light It Up" pour ne citer qu'eux. L'ambiance dans la salle est bon enfant : le public prend un réel plaisir à remuer énergiquement mais toujours gentiment sur chacun des morceaux. Et ça tape dans les mains... et ça danse dans tous les coins... Le temps défile sans compter lorsque le second et ultime titre du rappel est joué, un morceau que j'apprécie particulièrement, "Colours Fade", à ce moment-là c'est sans doute moi qui deviens la plus groupie des groupies de la salle.