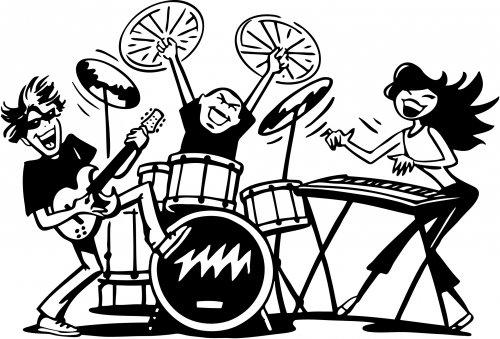 Dernier jour de l'année, cela fait déjà quelques semaines que l'on nous submerge de rétrospectives en tout genre : tops albums, tops singles, tops concerts... de l'année qui s'achève. Histoire de changer un peu et de mieux connaitre le monde mystérieux de l'adolescence, j'ai enquêté auprès d'un échantillon représentatif de deux adolescentes vivant avec moi afin de connaitre les 5 morceaux qu'elles avaient le plus écoutés l'année écoulée. Il ne s'agit pas là de morceaux forcément datés 2012 mais de morceaux écoutés en boucle ces douze derniers mois !
# TOP 5 d'une ado qui veut rester anonyme - 12 ans #
Metric - Hand$hake$
Extrait d'un album datant de 2005, Live It Out,
Metric
reste une valeur sûre auprès des ados. Sans doute l'effet magique Emily Haines.
* * *
The Hives - Come on !
Extrait de l'album Lex Hives sorti cette année et cinquième réalisation du groupe suédois garage rock.
* * *
Jack White - Freedom At 21
Extrait de Blunderbuss , premier album solo de Jack White, sorti le 21 avril 2012 sur son propre label Third Man Records.
* * *
The Raconteurs - Level
Toujours le même aux commandes : le ténébreux Jack White, pour un morceau datant de son époque The Raconteurs et extrait de leur premier album Broken Boy Soldiers paru en 2006.
* * *


Skip the Use - Antislavery



Skip The Use est un groupe français qui existe depuis plus de quatre ans. "Antislavery" est extrait de leur troisième album sorti cette année. Ce groupe offre un rock énergique et funky qui plait beaucoup aux jeunes générations. Voilà qui rappelle un peu les FFF qui officiaient il y a quinze / vingt ans.
* * *
# TOP 5 de Jade - 14 ans #
Coldplay In My Place
Est-il encore besoin de présenter Coldplay dont on retrouve au moins un morceau par saison de séries pour ados ? Depuis 1996 Chris Martin est à la tête d'un groupe qui égrène les tubes et continue à remplir les plus grandes salles et stades du monde. Incontournable, "In My Place" est un peu le "With or Without You" de la jeune génération.
* * *
Arctic Monkeys - From the ritz to the rubble


Même si les Arctic Monkeys convainquent un peu moins album après album, les rockeurs anglais sont depuis 2002 à l'origine de quelques-uns des meilleurs tubes pop rocks. Dans le cœur des ados ils prennent en quelque sorte la relève deColdplay dans un style nettement plus énergique et moins guimauve.
* * *
Skip The Use - Ghost
Skip The Use forcément... encore et encore. C'est avec ce morceau que le groupe a su charmer tous les adolescents de France dans un style musical qui n'est pas des plus évidents pour des 12/15 ans. L'effet ravageur de la chorale enfantine sans aucun doute !
* * *
Shaka Ponk - French Touch Puta Madre
Shaka Ponk est un groupe français d'électro rock festif qui enthousiasme pas mal de monde (jeunes ou moins jeunes d'ailleurs). C'est coloré et remuant : de quoi plaire à de nombreux adolescents. "French Touch Puta Madre" est extrait d'une version inédite de leur deuxième album Bad Porn Movie Trax paru en 2010.
* * *
Metric - On a Slow Night live
La boucle est bouclée avec les canadiens de Metric et cette fois un extrait deOld World Underground, Where Are You Now ? album sorti en 2003. L'effet magique Emily Haines encore et toujours.