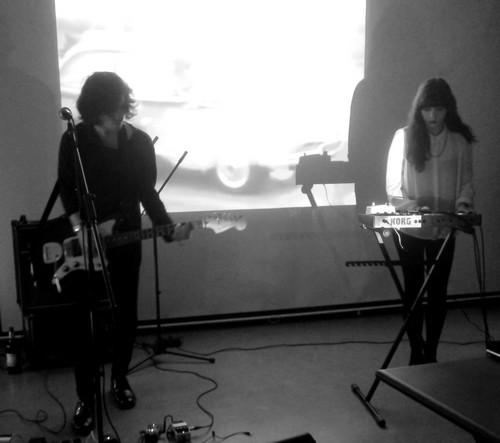 La combinaison était bien alléchante pour un samedi fin d'après-midi. Une soirée proposée par
Komakino
&
Kloser
, dans le toujours fort agréable
Stimultania
pour un concert estampillé wave shoegazienne.
Le duo mené par le ténébreux
Klaus Von Barrel
navigue en eaux connues avec des morceaux dark-synth-wave qui ne sont pas sans rappeler quelques illustres aînés à la sauce
Jesus & Mary Chains
& Co. L'univers de
The KVB
est singulièrement attrayant. C'est sombre, froid, glacial même... tout en distillant des mélodies légères et accrocheuses. Ce samedi soir, le contraste était saisissant entre la cold wave britannique que nous offrait
The KVB
au milieu des clichés fiévreux et féroces de l'exposition
This Must Be The Place
(visible jusqu'au 17/03/2013). Rien de véritablement novateur ou révolutionnaire dans ce concert empreint de spleen shoegazien qui nous a pourtant charmés par la qualité des morceaux proposés et l'interprétation habitée du jeune K.V.B.
L'album
Immaterial Visions
sera disponible à compter du 26 février 2013.
Une idée de ce que donne The KVB en live :
Site Officiel
|
Facebook
|
Bandcamp