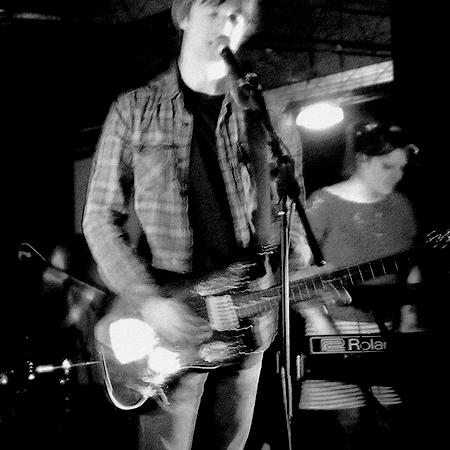 Dans le cadre de la seconde soirée du Week-End Herzfeld au
Hall des Chars
, c'est avec un peu de retard sur l'horaire prévu qu'
A Second of June
investit la salle des colonnes après le passage de la formation
Luneville
. La soirée marquait la sortie du second et très attendu album du quatuor de pop shoegaze strasbourgeois :
Psychodrama
. Après un
The Inside Law
fort prometteur et l'arrivée du groupe dans l'écurie
Herzfeld,
c'est avec une impatience fébrile que nous attendions depuis déjà plusieurs mois de découvrir le groupe sur scène avec ses nouvelles réalisations. Le second opus qui s'est élaboré tranquillement sous la production bienveillante de
Vincent Robert
(
Electric Electric
) ne devrait pas décevoir. [C'est même une certitude, vous pouvez me faire confiance, on en reparlera.] Désirant couvrir aussi une partie de
la prestation des garçons de Deaf Rock
qui jouaient en parallèle dans
la Laiterie
non loin, je n'ai assisté qu'à une partie du set. Mais qu'importe, cela m'a suffit pour mesurer l'évolution remarquable du groupe que je découvrais sur scène il y a deu
x ans lors du festival
Scène d'Ici 2009
. [Cocasse clin d'œil d'ailleurs ces
Scènes d'Ici 2011
qui se jouaient en face du Hall des Chars.]
Dans les progrès scéniques indéniables qui frappent d'entrée de jeu, on peut noter l'assurance de chacun des membres. Il est évident que le nombre de concerts effectués depuis deux ans et l'encadrement sans doute très bénéfique de la team
Herzfeld
y est pour beaucoup. De plus, le groupe sait qu'il dispose d'un bon lot d'excellents morceaux, voilà de quoi proposer au public un set de belle facture. C'est une délicate atmosphère de dark-pop rêveuse que nous a offert une nouvelle fois
A Second Of June
. Surfant sur nos nostalgies les plus sombres et empreint d'une légèreté plus actuelle, chaque morceau emporte le spectateur dans des errances indie-pop rêveuses.
A Second Of June
a vraiment su trouver une belle alchimie entre une rythmique légèrement obsédante, des claviers aériens et un chant-guitare très attachant. De moins en moins fragile et en même temps de plus en plus touchant.