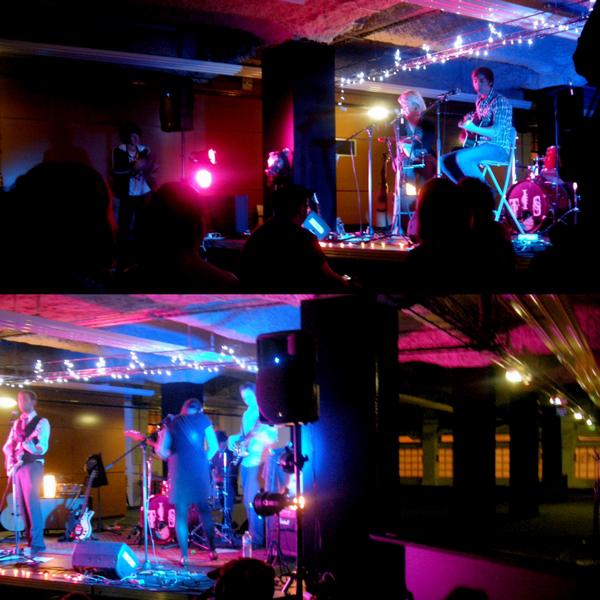 Hier soir nous fêtions au Hall des Chars la distribution officielle de l'album de
Tis
,
Lost In The Flax Flowers
, par le label
Cosmopolite Records
. Pour l'occasion le groupe avait invité les adorables
Kimberlie & Clark
à partager l'affiche en leur compagnie. Une soirée très conviviale et chaleureuse comme on en a l'habitude lorsque l'un de ces deux groupes se produit sur scène.
Ce qui est attachant avec Kimberlie & Clark c'est leur désinvolture permanente. Pourquoi se mettre la pression alors qu'ils sont là pour passer un bon moment et nous faire partager leurs morceaux fort sympathiques ? Les morceaux s'enchainent dans la décontraction totale devant un public dont rêverait toute maîtresse d'école tant il est sage et attentif ! "C'est quoi déjà le morceau maintenant ?"... "Ah zut, on recommence... tiens j'ai oublié de prendre mon harmonica !"... Ce qui pourrait passer pour un amateurisme rigolo séduit l'auditoire apportant au set une légèreté jubilatoire. Bientôt un an que le duo musical existe et pourtant à les voir jouer ensemble, on ressent toujours l'étincelle liée à la rencontre de Julien et Laura. Elle est belle et bien vivace cette étincelle qui est le moteur de cette délicieuse expérience musicale. Un EP sera bientôt enregistré pour une sortie en 2011, d'autres concerts suivront très certainement. Le public de fidèles qui s'accroit au fil des prestations du groupe sera au rendez-vous.
Pour Tis les choses sérieuses commencent. L'air de rien, la formation strasbourgeoise portée par Audrey Braun et Pierre Vasseur s'impose comme l'un des groupes dont la capitale alsacienne peut être tout aussi fière que d'autres formations locales soutenues par des labels plus connus (Herzfeld par exemple). Au risque de radoter, l'une des choses qui m'avait séduite lorsque j'avais commandé l'album de Tis c'était toute la qualité autour de l'objet (le visuel et les photos magnifiques) et le sérieux avec lequel Audrey, Pierre et ceux qui les entourent mènent tout cela. Ils ont un souci du détail et une sorte de perfectionnisme qui impressionnent et surtout font plaisir ! Quand tant de pseudo-artistes avec un culot monstre, se croient tout permis en présentant des morceaux dans des packagins qu'on croirait faits par des gamins de grande section de maternelle où tout se pète la gueule quand on ouvre le boitier du CD (et j'évoque des albums que j'ai achetés et non des envois promotionnels), quand on voit des jeunes groupes de la capitale qui s'imaginent le nombril du monde musical indé, avec des attitudes à la limite de la courtoisie, qui nous font subir des prestations plus que piteuses... soulignons, soulignons l'effort que certains artistes (des vrais pour le coup) font pour nous offrir non seulement des morceaux de grandes qualités mais aussi des soirées inoubliables. Cela ne tient pas à grand chose mais il suffit d'un peu de générosité et d'inventivité. Hier soir par exemple, à l'achat de notre billet, le groupe offrait un très joli pins souvenir, la scène était agrémentée de décorations faites d'intéressants masques d'animaux... C'est nettement plus agréable pour le public que des artistes qui arrivent en jogging cracra en faisant la gueule, un sachet de supermarché à la main qu'ils accrochent à leur micro durant tout leur concert (c'est du vécu de La Laiterie). Tis nous a offert un set de belle facture avec leurs perles rock folk incontournables comme "Nameless Story", "Dorian Gray", le magique "Song For Ghosts" et le toujours aussi efficace "Lost In The Flax Flowers". Quelques nouveautés aussi qui, on l'espère, augurent de futures réalisations pour bientôt. Cette release party restera une très belle soirée avec beaucoup de chaleur (au propre comme au figuré d'ailleurs) et une humilité terriblement attachante pour ces deux groupes chouchous de la scène montante strasbourgeoise.