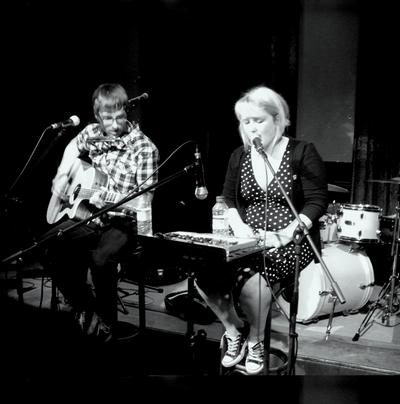 Esprits chagrins au placard : notre mois de mai n'a pas été tout pourri ! En tout cas le mien fut radieux puisqu'il m'a fait découvrir deux jeunes gens fabuleux. Une fille et un gars du côté de chez moi qui plus est. Cocasserie de l'histoire, ce n'est pas au détour d'une soirée alsacienne que leurs morceaux sont arrivés jusqu'à mes oreilles mais grâce à une errance myspacienne. Quelques coups d'œils rapides et on repère un nom qui accroche (homonyme d'une marque américaine dans le domaine de l'hygiène, allez savoir pourquoi ?!), un descriptif mêlant folk et punk, un adorable minois blond qui sourit tout le temps et de la chemise à carreaux (C'est génial les chemises à carreaux-j'adore les chemises à carreaux- ça nous rappelle notre grungitude). On n'a même pas entendu une seule note qu'on s'attache déjà à mademoiselle
Dorothy
(Laura) et monsieur
Julien
. Puis on se lance dans l'écoute de démos maisons entre morceaux originaux et reprises. Les interprétations sont joliment accrocheuses, avec la douceur tout en puissance du chant de
Dorothy
qui se marie parfaitement aux accords énergiques et aux chœurs de son compagnon musical. Même si ce n'est pas forcément un style que l'on écoute habituellement, le charme opère rapidement et, sans même y prêter attention, on se repasse les morceaux en boucle via l'horrible playeur Myspace.
On découvre alors que les jeunes gens ont essuyé les plâtres d'un concept semi-original proposé par
Scène de Bain
: des sessions acoustiques tournées en... salle de bain. La vision de la vidéo tient presque du coup de foudre : on s'imprègne du morceau scotché par les petites notes au xylophone, les carreaux des chemises et les charmants sourires de notre duo acoustique. Un truc se passe (et pas qu'avec moi apparemment) et l'envie obsessionnelle du moment devient : voir le duo jouer devant nous en vrai. (Ce qui doit être nettement moins compliqué à vivre dans l'immédiateté qu'un retour de
Shellac
à
La Laiterie
).
BINGO ! Ce sera chose faite grâce au mini-festival folk rock
Chicago-Strasbourg
proposé par les sympathiques membres du collectif
KIM
(D'ailleurs ultime date prévue pour ce festival : ce vendredi 28 mai à l'Artichaut où se produiront
Jon Drake and the Shakes
,
Jaime Rojo
et l'alsacien :
Marxer
.
Possible que j'en reparle
. Il faut que j'en reparle !). C'est donc dans le cadre du Café des Anges que se produisait en ouverture de soirée
Kimberlie & Clark.
Assis sur leur tabouret, guitare et harmonica pour lui, xylophone et kleenex pour elle ;) , le duo nous a offert un petit set charmant et très touchant fait de titres originaux aux mélodies séduisantes et de quelques reprises audacieuses
(Death Cab For Cutie
entre autres...) et surtout une version étonnante (et très réussie) de "Pints of Guinness Make You Strong" des
Against Me !.
Kimberlie & Clark ont cette fraîcheur (et même une forme d'innocence très touchante) de ceux qui débutent. Pas qu'ils soient débutants en musique et concerts puisque chacun évoluait auparavant dans des formations nettement plus énergiques aux confins du punk rock. Pourtant on assiste bien là à l'émergence et au démarrage d'une nouvelle histoire. Déjà d'un point de vue musical puisque le groupe aborde un style qui diffère de ce que l'un et l'autre proposait jusqu'à présent. Mais aussi une étonnante histoire humaine car figurez-vous que, malgré une complicité et une complémentarité qui semble évidente quand Julien et Dorothy jouent ensemble, les deux jeunes gens ne se connaissaient même pas il y a quelques mois !
Pour notre plus grand plaisir, ils étaient faits pour se rencontrer et partager leurs nombreux talents artistiques. Le groupe devrait enregistrer quelques titres prochainement. De toute façon, vous serez vite au courant !
En images qui bougent (dans une salle de bain donc) :