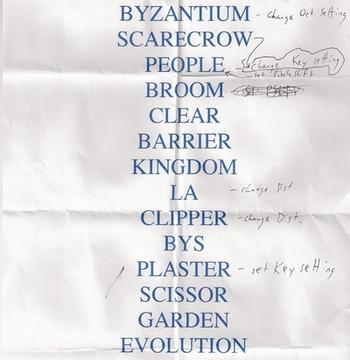 Liars
était à l'affiche de
La Laiterie
pour un concert de milieu de tournée européenne. A la veille de leur date parisienne, la salle Club (petite salle de La Laiterie) n'affichait pas complet (alors que La Maroquinerie n'a plus de places à vendre depuis des jours, chose étonnante). Tant mieux parce que
Liars
reste un groupe à voir en salle (et petite salle). Même si certains se réjouissent de les retrouver une nouvelle fois à la
Route du Rock
mi août, il serait surprenant d'assister au même genre de prestation.
Démarrage de soirée flamboyant avec Fol Chen : le groupe de Samuel Bing , l'un des musiciens qui accompagne Liars en tournée. "Flamboyant" : visuellement s'entend, tons rougeâtres qui illuminent alors la salle Club. Le petit bonhomme monte sur scène accompagné entre autre d'une fort jolie claviériste. On oublie aussi vite ce que nos oreilles découvrent : il est difficile de rester accroché sur l'ensemble du set tant le groupe se laisse aller à des passages assez insipides faisant preuve d'une relative mollesse. Dommage car, par moment, il y a de sympathiques parties animées. De toute façon, ce n'est pas ce groupe que le public est venu voir ce soir : on se contentera donc de patienter tranquillement en attendant les Liars.
Liars
prend place dans une ambiance assez différente du
concert de La Maroquinerie de fin 2007
. Déjà, le groupe porte des tenues décontractées et passe-partout :
Angus
n'est pas affublé d'un grand costume blanc mais d'un tee shirt sombre. A priori la prestation à venir devrait moins partir dans une grande messe psychédélico-délirante à laquelle j'avais assisté la dernière fois. La setlist en témoigne aisément : le groupe va jouer bon nombre de ses nouveaux titres issus de
Sisterworld
, ira piocher jusque dans leur premier album punk rock
They Threw Us All in a Trench and Stuck a Monument on Top
(2001) pour nous interpréter le morceau ultra rythmique "The Garden Was Crowded And Outside". On aura aussi droit à quelques titres des albums
Liars
et même
There's Always Room On The Broom
. Et ainsi, manque de chance me concernant,
Drum's Not Dead
(leur disque qui me touche le plus) sera le grand oublié de la soirée. Dans un sens tant mieux puisque la présence des morceaux de cet album dans la setlist n'aurait très certainement pas donné la même ambiance de concert.
Angus Andrew reste toujours ce personnage un peu excessif qui mène la (les) danse(s) sans temps mort du début à la fin du concert. Julian Gross assène une rythmique parfaite et sait manier les cassures et reprises en puissance à merveilles. Le tout mignon Aaron Hemphill se place dans un registre multifonction : quand il ne supplée pas son camarade batteur, il officie efficacement à la guitare et aux claviers. Sympathiques, dynamiques, amusants, les membres de Liars possèdent cette incroyable capacité à créer des moments époustouflants de quasi transe. En alternant régulièrement des phases de grandes retenues avec des périodes complètement hystériques, ils parviennent à porter le public vers différents états physiques. Peu de groupes sont aussi doués pour proposer des concerts qui remuent autant (physiquement et intérieurement). La configuration "intime" de la soirée y a très certainement contribué. Liars demeure un excellent groupe scénique, nous sommes chanceux d'avoir pu apprécier leur forme actuelle qui est tout simplement éblouissante.