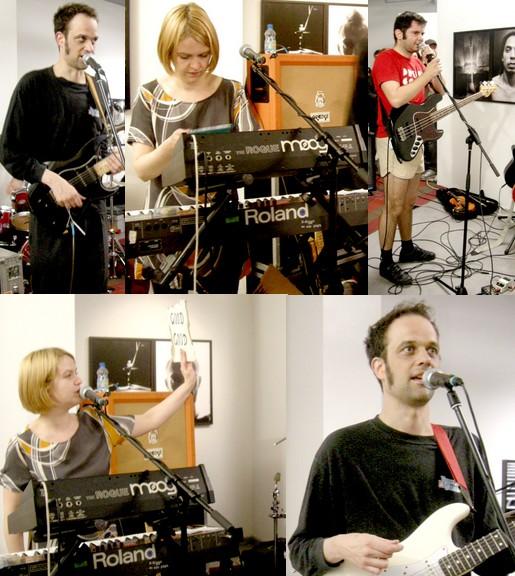 A quelques jours de la sortie officielle de leur prochain album (
Well Done Europe
le 24 mai chez Lo Recordings) les trublions de
The Chap
venaient dispenser leur bonne humeur dans la chaleureuse
Galerie Stimultania
. C'est au nombre de quatre que le groupe officiait devant un public venu en nombre pour une nouvelle très chouette programmation proposée par l'association
Komakino
.
Nous nous doutions que nous passerions un moment fort divertissant. Déjà parce que The Chap sont connus pour être assez exceptionnels lors de leurs prestations mais aussi parce que ceux-ci manient à merveille l'humour potache. En ces temps de leaks à tout va, le groupe nous a proposé il y a déjà quelques semaines (à deux mois de la sortie de l'album) une piste d'écoute intégrale de leur prochain album... d'une durée de 3'30 !! Well Done Europe totalement compressé en voilà une idée géniale pour gagner du temps.
Et puis allez hop jetez une oreille sur cet album vous m'en direz des nouvelles :
Plus sérieusement, depuis quelques jours, l'album est en écoute intégrale (avec une durée normale des morceaux) sur le site de
Lo Recordings
.
On a beau n'avoir payé que trois euros pour voir The Chap, à aucun moment nous n'avons l'impression d'assister à un concert au rabais. Bien au contraire : le groupe se donne à fond de la première minute à la dernière. Les membres sont de sacrés personnages : dans leur dégaine, leurs mimiques irrésistibles et leurs mises en scène terriblement distrayantes. Parmi les nouveaux titres "Even Your Friends" ou encore "Well Done You" se révèlent sacrément efficaces en versions live. Dans un cadre qui se prête plus à l'acoustique, The Chap sont parvenus à dégager une énergie musicale électrique des plus sémillantes. Sans doute l'un des concerts les plus réjouissants de cette première moitié 2010.